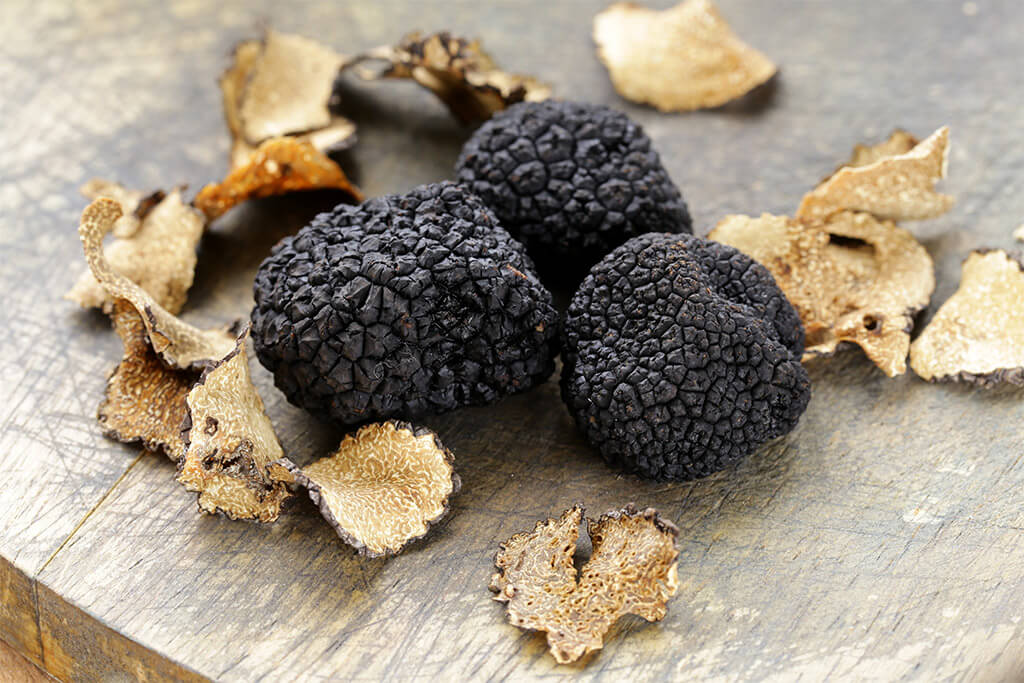 Summer truffles or Tuber aestivum grow in a habitat similar to that of black truffles, next to the roots of Mediterranean trees, although they do not require such specific environmental conditions as the black truffle in terms of the soil composition and moisture levels. This means that they are easier to harvest, although it also means that their qualities are less spectacular; for example, their scent is less intense than the black truffle.
Also known in Spanish as the St. John's truffle (trufa de San Juan), summer truffles are harvested between May and September.
Dark on the outside and with more pronounced pyramidal shapes, they are clearly different to the black truffle on the inside.

---
Inside, the summer truffle is a light brown colour with white streaks when it is ripe.
With a milder flavour than the black truffle, the Tuber aestivum is also highly prized for its gastronomic versatility.

Summer truffles go perfectly with summer dishes, although they can also be used in conserved foods.
Product not available off-season
OTHER TRUFFLE VARIETIES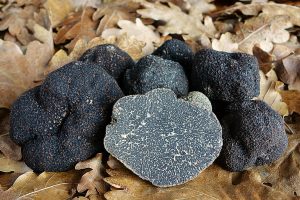 Black truffles (Tuber melanosporum)
Rough, compact and dark outside, black truffles have a violet-black inside with white streaks when they ripen in the winter.

STORAGE AND CARE OF TRUFFLES
Under the earth, far from the light and noise, truffles take a few months to ripen near the roots of holm oaks, oaks and other trees.
Once they have been dug out, it is essential to keep caring for this underground fungus so it retains all its properties.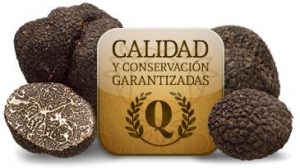 Trufato provides the best transport and packaging to ensure that the fresh truffles are conserved according to their temperature and moisture needs.
Once at their destination, truffles can keep for a week in the fridge and almost ten months in the freezer.
In the freezer, it is advisable to protect the truffles from moisture by wrapping each one in absorbent paper that should be changed every day.
Plus, to prevent them from losing their scent, they should be stored in an air-tight container which should be opened occasionally to allow the truffles to "breath". They can be stored along with other foods like eggs or butter if you want them to take on the scent and flavour of the truffle.
To extend the amount of time they can remain fresh in the fridge to one year, you can conserve the truffles in their own liquid. To do so, just place clean truffles in a glass jar, cover them with brandy or dry white wine, and cover and boil in a bain-marie until a vacuum seal is created.